Home Air Conditioning Maintenance with Disinfectant
For a limited time
, we are offering a 
clean and disinfection of your indoor coil at no additional cost
, ensuring clean and healthy air within your home. ​
The installation of your air conditioning system represents a sizeable investment and we strongly recommend the equipment be checked annually to maintain optimum performance. For new air conditioning systems, regular maintenance is also a requirement of the manufacturers' warranty.
Ample Air Offers our exclusive 'Ample 40 Point Maintenance' to ensure your system runs trouble free and at its best year round. This annual service includes flushing drains, checking ductwork, replacing/cleaning filter, outdoor coil clean, checking the refrigerant charge, zone operation and much more.
We take the health and safety of both our staff and customers very seriously, our techs wear gloves and masks whilst in your home, please see our COVID-19 Policy.

Air Conditioning Maintenance Service
Due for a Maintenance?
If you have not had a maintenance carried out in the last 12 months your air conditioning equipment is now due to be checked.  The cost to carry out an annual check on a Highwall System is $176.00 and a Ducted System is $253.00 including GST. Due to labour demands in Summer and Winter, maintenance work is generally carried out between April to June & September to November. If you wish to avail yourself for this service please contact our Service Department during business hours to organise a suitable day.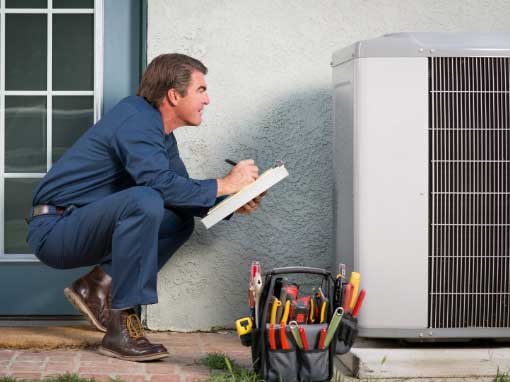 How much is a maintenance service?
The cost to carry out an annual check on a Ducted Heater or Ducted Air Conditioning system is $253 inc GST. Highwall Split System Air Conditioners are $176 inc GST. We offer discounts for multiple units.
What do you do during a service?
A Ducted Air Conditioner Maintenance will take around about an hour, give or take. Please refer to our 40 Point Maintenance checklist for further details.

 40 Point Maintenance Checklist
How often should I service my Air Conditioner?
We recommend that a licenced technician services your air conditioner every year. The homeowner should ensure the filters are cleaned regularly, we suggest every 2-3 months.
What are the benefits of regular maintenance?
Maintaining your air conditioning system can reduce breakdowns, lower running costs and lengthens the expected life of the system. It is also a requirement of the manufacturer's warranty to have your air conditioner maintained by a licenced professional.