Rinnai Ducted Reverse Cycle Air Conditioning
Rinnai offers a complete range of Ducted Reverse Cycle Air Conditioners. For the ultimate experience in home comfort, you can rely on Rinnai and enjoy total climate control.
The Rinnai Inverter system provides cooling, dehumidification and heating while filtering the air. Condition your whole home, or zone to suit your lifestyle and minimize operating costs, step up to the ultimate in home comfort and ask us about 'MyAir'! Incorporating the latest technologies such as '3D' DC Inverter arrangement, the Rinnai Ducted system has outstanding energy efficiency ratings. Compliant with the latest government regulated Minimum Energy Performance Ratings (MEPS).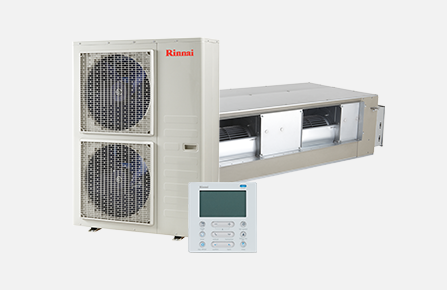 Features
3D DC Inverter system
Whole home or zoned
Economical
Quiet
Rapid response
5 year warranty
Wired programmable control
And for a limited time –
FREE WIFI CONTROL & VISA PREPAID CARD UP TO $400*
Specifications
Available in 7kw, 10kw, 12kw, 14kw & 17kw variants. See product brochure below for full specifications
Brochure

 Rinnai Inverter Ducted Air Conditioner
Can we help?
Like to book your FREE quotation, or simply after no obligation advice?
Please call us on 1800 221 348 or use the form below, our Western Sydney based consultants are ready to assist!